Outdoor Living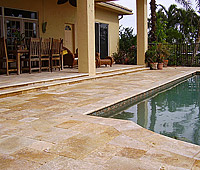 Homeowners in and around West Palm Beach, Lake Park, Boynton Beach are increasingly opting to upgrade the open areas on their property. Once these spaces have been designed and installed to perfection, it encourages you to use them with more frequency. The fact is that outdoor living is a trend that is here to stay. AAA Pavers has years of experience in the landscaping space and we help homeowners achieve the look they want.
Outdoor Living Elements
The customized solutions we provide will match your function and styling needs and every area of these outdoor spaces will be planned perfectly and installed with attention to detail. Outdoor living concepts differ from one person to the next and we work with you to help create spaces that you will love to use. We can help with the addition of:
Decks and patios
Outdoor kitchens
Poolscapes
Gazebos and pergolas
Arbors
Pathways and walkways
Fireplaces and fire pits
Pavers
Other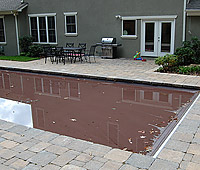 Not every outdoor living project has to be large. If you prefer to have it completed in phases, we can do that too. We add these features and elements and create spaces that add to the attraction quotient of your property. Every area will be treated in an expert manner to create a unique and stunning look
Outdoor Kitchens
These features add expanse to your home and enhance the functionality of the outdoor spaces on your property:
Based on the layout of the outdoor area, the kitchen can be build adjacent to the structure of your home or can be a detached feature
It can have a simple design or be elaborate with a number of fixtures and equipment
We can construct half-height walls with in-built seating, and cushions can be added to make these areas comfortable
Adding patio furniture will give you added space
The flooring can be made of poured concrete or pavers made of stone, brick or concrete
We can build well-planned counters with cabinets to store kitchen appliances and other things
If you like, a small fireplace can be added to this space to make it more comfortable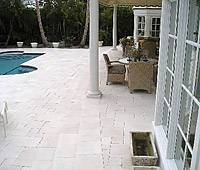 As you can see, there are a number of things that can be done to enhance the look of an outdoor kitchen. While we are designing these areas, the focus is on creating functional spaces that add value to your home and look aesthetically appealing.
Fireplaces & Fire Pits
If you want a fireplace or fire pit added to the outdoor living space, we can provide beautiful concepts and designs; we can also design and create theme areas around these elements. The fire pits and fireplaces can be made of brick, concrete or natural stone and will be custom designed to your requirement.
For more information about outdoor living concepts, call AAA Pavers on 561-441-8028. Speak with our experts and tell us what your requirement is- we will provide you with custom solutions that fit perfectly into your budget.