Driveways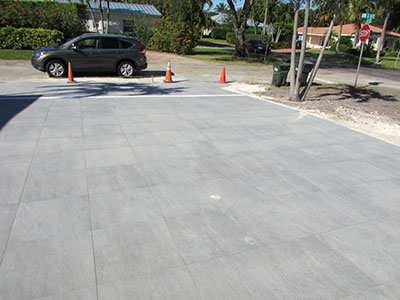 The first thing people will see when they drive up to your home is your driveway. Installing a new driveway is an investment and you would want to ensure that it is of the highest quality that lasts long. If you have an old, moldy, or cracked driveway, you can have the new driveway of your dreams.

All landscaped areas require the right plan, design, and materials. When you get your hardscapes designed, make sure the materials and features are cost-efficient and low maintenance. At AAA Pavers, Inc., we specialize in installing different types of driveways including porcelain pavers. Our services are available throughout Palm Beach Gardens, Boynton Beach North, Boynton Beach South, and the surrounding areas.


Professional & Proven Porcelain Driveway Pavers
Our specialized porcelain driveway paving installation services are focused on enhancing the elegance and functionality of your landscape. When we handle your job, we are driven by the goal to meet your goals and create a beautiful and unique outdoor area.

We use quality outdoor porcelain pavers designed specifically for the outdoors. They are durable, skid-resistant, frost-resistant, and easy to clean. Besides, they have exceptionally high breakage loads, making them perfect for your driveways that receive high and heavy traffic.


Benefits of Porcelain Pavers for Driveways
We have been designing stunning porcelain paver driveways and driveway paver extensions for years for both homes and commercial spaces. Let us help create an elegant paver driveway that is an extension of your home interiors. Installing these paver driveways can deliver great durability and value for years.

Some of the key reasons why you should consider installing porcelain pavers for your driveways are as follows:
Highly Durable & Resilient: Outdoor porcelain pavers are thicker than the porcelain tiles used in indoor spaces. They are more durable and resilient. The high breakage loads make them perfect for high-traffic areas.
Skid-Resistant: The skid-resistant surfaces make them safer for users. You will not have to worry about anyone slipping on the surface. Besides driveways, these pavers can also make safe flooring options for pool and spa areas.
Weather Resistance: Harsh weather conditions will not damage your driveway. These pavers are resistant to frost and will not deteriorate from changes in climate.
Aesthetic Versatility: Porcelain pavers are available in almost all colors, designs, and styles. From complementing a traditional landscape to contemporary or modern design, we can help you choose a style that is perfect for your landscape.

Ease of installation further helps in reducing the amount of time it takes to have your driveway installed and ready. Since there is a lesser need for preparation, the cost of the job gets reduced.

At AAA Pavers, Inc., we can install porcelain pavers and other types of driveway pavers on your property. We also install concrete pavers, brick pavers, natural stone pavers, and paving tiles. If you are in Palm Beach Gardens or in the surrounding areas, feel free to contact us today for more information about our services.
Give us a call at 561-284-9834 or write to us by filling this Online Form.