Pool Decks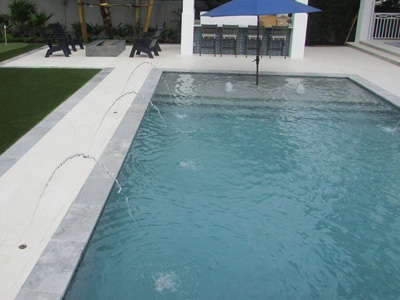 Paved pool decks enhance your pool experience by creating a beautiful and safe space for your family and guests to spend quality time. Proper paving and the choice of the right material has the potential to turn any pool area into a luxurious space. At AAA Pavers, Inc., we specialize in all the different paver materials for building the perfect pool deck that meets your practical and aesthetic requirements. If you are in Palm Beach Gardens or the surrounding areas, we can help you turn your pool area into a paradise with our years of experience, professional expertise, and commitment to quality.


Need for Professional Pool Deck Paving
When it comes to your pool deck, you have many material options to choose from. If you want high-quality hardscaping material, we recommend porcelain pavers. We work with all the different and popular paving materials including porcelain, concrete, brick, natural stone, and other options. We understand how important professional and local pool deck paving is for your property. Find out what materials we specialize in and the advantages offered by our porcelain pavers.


Pool Deck Material Options
We work with all the different natural and manmade paving materials to create beautiful and sturdy pool decks.
Concrete Pavers: There are endless color options. The material offers high durability, safety, affordability, and versatility.
Brick Pavers: Environment-friendly material that is easy to install and maintain.
Travertine: It is an excellent material for wet surfaces, as it is slip-resistant and freeze-thaw resistant.
Sandstone: It is durable, elegant, versatile, and available in many dimensions.
The other material options include limestone and granite.


Benefits of Porcelain Paver Pool Decks
Porcelain pavers offer the following benefits for your pool deck:
High Durability: Made from a special type of clay and additives, porcelain undergoes high kiln fire temperatures. The result is high durability, wear-resistance, and minimal water absorption.
Aesthetic Versatility: The pavers are available in almost unlimited colors and styles. You can create outdoor spaces that blend perfectly with the surrounding environment. We can help you create special effects or imitate other natural materials like wood and natural stone.
Lightweight: Porcelain pavers are thinner than their concrete or natural stone counterparts. This makes them lighter, cost-efficient, and easier to install.
Ease of Maintenance: Once you install porcelain pavers for your pool deck, you will not have to worry about it absorbing water. This reduces the need for protective coatings or sealers for the surface. It becomes easier to clean and remove spills and debris, making it easier to maintain your deck.
Resistant to Mold, Mildew & Moss: Porcelain pavers are perfect for pool decks because they are impermeable and prevent mold, mildew, or moss growth.

Among other benefits, these pavers are also perfect for high traffic areas.

At AAA Pavers, Inc., we can design and install different types of pavers for your pool deck. We are a licensed and reputed hardscaping company providing services throughout the Palm Beach Gardens and surrounding regions. If you need more information about our pool deck installation services, feel free to call us today at 561-284-9834.
We can also be reached via this Contact Form. Our experienced professionals will get back to you at the earliest.